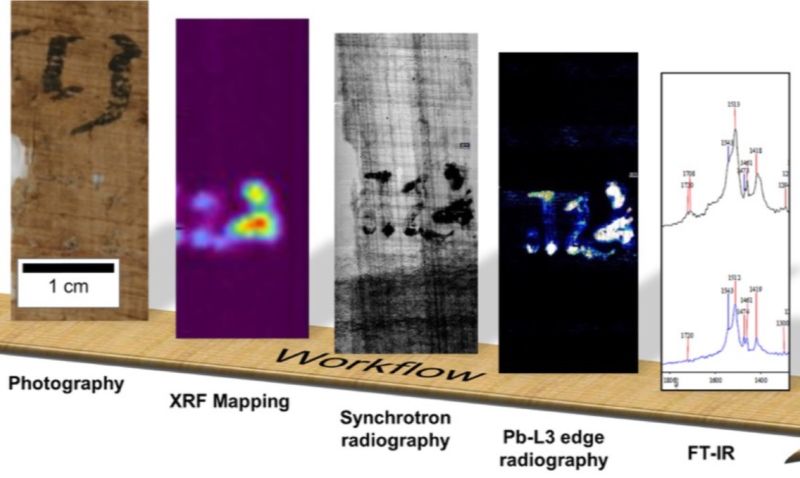 A team of German scientists has used a combination of cutting-edge physics techniques to virtually "unfold" an ancient Egyptian papyrus, part of an extensive collection housed in the Berlin Egyptian Museum. Their analysis revealed that a seemingly blank patch on the papyrus actually contained characters written in what had become "invisible ink" after centuries of exposure to light.
Most of the papyri in the collection were excavated around 1906 by an archaeologist named Otto Rubensohn, on Elephantine Island, near the city of Aswan. They've been gathering dust in storage for much of the ensuing decades, and because they are so fragile, more than 80% of the text within remains undeciphered. "Today, much of this papyrus has aged considerably, so the valuable texts can easily crumble if we try to unfold or unroll them," said co-author Heinz-Eberhard Mahnke of Helmholtz-Zentrum Berlin and Freie Universität Berlin. That makes noninvasive imaging methods essential to the project.
In 2016, an international team of scientists developed a method for "virtually unrolling" a badly damaged ancient scroll found on the western shore of the Dead Sea, revealing the first few verses from the book of Leviticus. The so-called En Gedi scroll was recovered from the ark of an ancient synagogue destroyed by fire around 600 CE. To the naked eye, it resembled a small lump of charcoal, so fragile that there was no safe way to analyze the contents. The team's approach combined digital scanning with micro-computed tomography—a noninvasive technique often used for cancer imaging—with segmentation to digitally create pages, augmented with texturing and flattening techniques. Then they developed software (Volume Cartography) to virtually unroll the scroll.