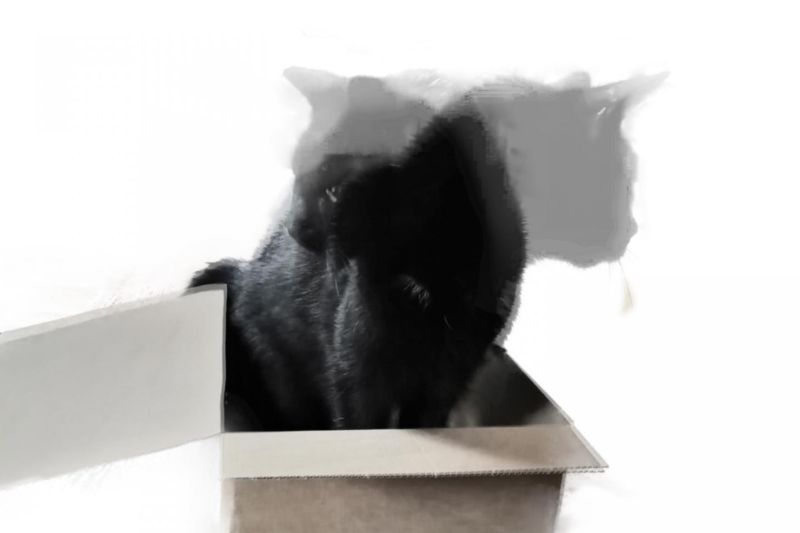 Schrödinger's cat is quite possibly the most famous paradox in physics, and rudimentary real-world versions have even been built in the laboratory. Now a team of German physicists has set a new record by building a quantum "cat" out of 20 entangled qubits, as described in a recent paper in Science. A second group of Chinese researchers has successfully done the same with 18 qubits. The prior record, set in 2011, was 14 qubits.
Erwin Schrödinger originally proposed his thought experiment to illustrate the innate absurdity of quantum mechanics. He envisioned putting a hypothetical cat in a box containing a radioactive substance, a detector to sense any emitted radiation, and a lethal vial of poison. If the radioactive substance decays, the detector will trigger the release of the poison and the cat dies. If it doesn't, the cat remains alive. But a strict interpretation of quantum mechanics holds that until someone opens the box to see what happened, the cat exists in a superposition of states, both alive and dead.
It really is possible to build a version of Schrödinger's cat in the laboratory. It's more of a quantum "cat state," whereby two or more particles manage to be in two different states at the same time. In 2005, for instance, National Institute of Standards and Technology researchers created a quantum cat state out of six atoms in simultaneous "spin up" and "spin down" states—rather like spinning clockwise and counterclockwise at the same time. Other groups have done the same with photons.